March 2010: Synthetic Zero Events at BronxArtSpace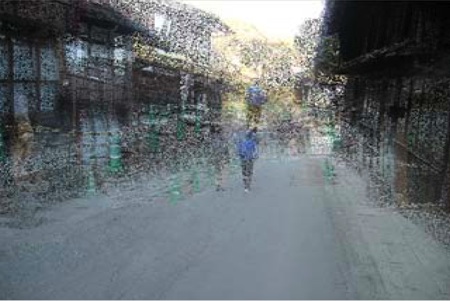 The next Synthetic Zero events will be on Wednesday, March 3rd, 6pm - 9pm, and Saturday, March 6th, 7pm - 10pm at the BronxArtSpace at 305 E. 140th St., #1A, Bronx NY 10454. We will have live performances, experimental film, and visual art. The event will be free (donations accepted). The Synthetic Zero loft events will be part of the Bronx Culture Trolley. Note: the visual art exhibit will be open Fridays and Saturdays 2-7pm during the month of March 5-26.
Performances:
Jessica Danser/dansfolk - "The Opposite of War" - dance (Saturday)
Elizabeth Glushko - music (Wednesday)
"Forty-Two Suns Rise" - video by Jane Hsu, live music by Amelia Lukas and Asami Tamura (Saturday)
Erik Sanner, Justin Petropoulos, and David Ramm - "Life Mapping" - video / action painting (Wednesday)
Lee Young Joo - performance (Saturday)
Experimental Film:
Jeremy Newman - "Domestic Rhythms" - Mt. Laurel, NJ
Laura Migliorino - "Sprawl" - Minneapolis, MN
Damali Abrams - "Walking With Linda Montano" - Queens, NY
Lee Young Joo - "She Smiled at Me" - Frankfurt, Germany
Kate Balsley - "Autumn" - Brown Deer, WI
Holly Bynoe - "Boogieman" - Cliffside Park, NJ
Yaron Lapid - "Casual Mechanisms" - Israel
Visual Art:
Yousuke Sasaki - drawings
Erik Sanner - installation
Akinori Towma - paintings
Annalisa Iadicicco - installation
Chris Riggs and Betty T Kao - paintings
Sibyll Kalff - photo/prints
Blithe Riley and Mary Coble - video installation
BronxArtSpace started this year, in the same space that we used to call Synthetic Zero Art Space. This year, Linda Cunningham, Mitsu Hadeishi, and a group of artists, curators and arts organizations are collaborating to create a series of events, art shows, experimental film, performance, music, readings, and classes.
BronxArtSpace: 305 East 140th Street, Bronx NY 10454.
6 Train to 138th St/3rd Ave (1 stop from 125th St express station) - note: there are two exits to the subway station, at 3rd Ave, and at Alexander Ave
Upcoming events and shows:
Exhibit curated by Melissa Calderón
Show open to the public Fridays and Saturdays 2pm-7pm

Wed Apr 7 6pm-9pm - Opening and Bronx Culture Trolley
Exhibit curated by Wayne Northcross
Show open to the public Fridays and Saturdays 2pm-7pm, May 1st - 22nd

Sat May 1 opening (time TBD)

Wed May 5 5pm-8pm - Bronx Culture Trolley
Exhibit by Marisol Díaz - Opening and Bronx Culture Trolley
Show open to the public Fridays and Saturdays 2pm-7pm, June 5th - 25th, closed Saturday June 26th

Wed May 2nd 6pm-9pm - Opening and Bronx Culture Trolley
If you'd like to suggest a future event, would like to curate a show or submit visual art, video, film, music or a performance, please email us at art at bronxartspace dot com; if it's a video you'd like to submit to a Synthetic Zero event, you can send a DVD or Blu-Ray disc to:
Mitsu Hadeishi / Synthetic Zero
305 E 140th St #1A
Bronx, NY 10454
718 772-4961
Preferred formats for video are DVD (NTSC or PAL) or Blu-Ray disc.

DIRECTIONS:
The art space is at 305 E. 140th St., #1A, Bronx NY 10454.
We're about 20 minutes from Union Square. From Manhattan, 4-5 train to 125th, transfer to 6, one stop to 3rd Ave/138th St, it's 2 blocks from there. Note there are two exits at 3rd Ave/138th, one at Alexander Ave and one at 3rd Ave. Ring 3A if 1A does not answer.

PLEASE FORWARD THIS TO FRIENDS! Thanks.
Note: These events are made possible in part with public funds from the Bronx Council on the Arts through the New York City Department of Cultural Affairs Greater New York Arts Development Fund Regrants Program, Bronx Borough President Aldolfo Carrion and the Bronx delegation of the City Council.