September 20th, 2009
New York is a great city, the most powerful city in the wealthiest country in the world, it has some of the greatest cultural institutions and some of the smartest people in the nation, it's even managed to become the safest major city in the country, and it's made many strides recently in adding bike lanes, opening new parks such as the High Line, and other quality of life improvements. But, despite all this, there's also something sort of Mickey Mouse about the place; something trashy, dysfunctional… half-assed. Many, perhaps most subway stations are in disrepair; paint peels off the walls and beams (not in spots, but everywhere, massively), making the stations look like sets from a post-apocalyptic movie. Many of the city's public schools lack adequate resources. In some neighborhoods, even mail delivery is hit and miss. Road construction seems to take forever, and even when it's done, you can end up with roads that flood easily in moderate rain, have confusing signage and odd, awkward routing. A woman was electrocuted to death because she stepped on a metal plate in the street which hadn't been properly insulated by ConEd, the electric utility, yet even after this incident, they still failed to completely fix the problems in their system. In a building project I am familiar with, the contractors tried to get away with doing the absolute minimum they had to do, putting in the least amount of wiring they needed to, sealing bathroom fixtures sloppily, installing doors, windows, and other items skewed or slightly off, requiring a lot of extra work after the contractors were done to fix their lack of attention to detail. There's a common attitude of just sort of sliding by, here.
I was reminded of this while at LaGuardia airport, where I saw this sign: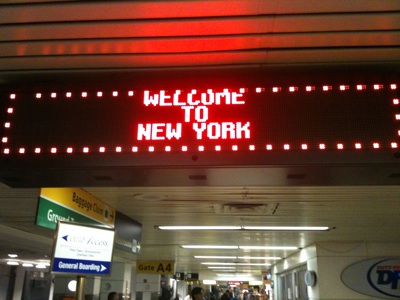 No, I didn't take it mid-scroll; that's it, that's the sign, static, frozen, "WELCOME" smashed up against the dots along the top; a perfect symbol of the pervasive New York culture of "let's eke by." Or, take this vending machine I tried to use, also in the airport:
Of course, this machine is owned by Best Buy, not the airport. But no one in the airport has yet reported this crash. Customers who try to use the machine may not have even informed anyone; New Yorkers are famously blase about things going wrong like this; they go wrong all the time, all around everyone. Escalators, for example, are constantly broken, everywhere (the fact that escalators and elevators in the transit system are constantly broken has even been the subject of stories in the New York Times — apparently the mechanics are poorly trained and overworked). And these are just two examples; living in New York you come across things like this all the time, constantly.
It's funny, in a way, but it's also kind of sad and a bit strange. How is it that America can be so powerful, yet in its most powerful city, there can be such a pervasive, half-assed approach to things?
permalink
|